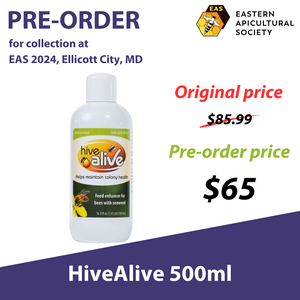 Discount code added automatically when you add product to cart
Order now to avail of special pre order pricing for this years North American Honey Bee Expo
Save on shipping too by collecting at the Louisville convention centre from January 4-6th 2024.
For collection at NAHBE only.
The 500ml bottle feeds 50 colonies and activates 52.8 gallons of syrup.
Feed supplement for bees that can be easily added to sugar syrup to help maintain colony strength.
Proven to maintain honeybee health, maintain gut health and improve over-winter success.
Extensive international field trial testing has been carried out on HiveAlive. Results have been published in the Journal of Apicultural Research.
Excellent value for money. Trials

 

show that feeding HiveAlive leads to better nourished, healthier bees resulting in a natural increase in colony population and honey production and fewer losses.