For larger volumes please email us directly for pricing.
Other purchasing options
NEW: Choose your pollen content - now available in 4% or 15% US irradiated pollen.
Please note: Our HiveAlive 40lb 15% pollen patty option will be back available to purchase soon for dispatch mid December.
In addition to adding HiveAlive to your sugar syrup you can boost them further with our HiveAlive High Performance Pollen patties.
Feed whenever there is limited pollen i.e. spring, during a dearth or in the fall.
• Choose between 4% or 15% real USA irradiated pollen, 15.5% total protein.

• Full dose of HiveAlive liquid in each patty (1 tsp per patty).
• Very fast consumption rate.

• We've also added seaweed extracts to make it what we believe to be the most complete and balanced nutritional profile of any protein patty, and contain all the nutrients and micronutrients essential for bee health, readily bioavailable, so that your bees can absorb them rapidly.
•Made in the USA with 100% USA irradiated pollen for quality and safety
• Complete range of essential amino acids, trace minerals & vitamins required for brood rearing & healthy colonies.
Use within the season purchased or else freeze until the following season.
For commercial pricing, please contact us for details at info@hivealivebees.com.
Get 20% off HiveAlive liquid (100ml, 500ml or 2l) when you purchase HiveAlive pollen patties - simply add both products to the cart and use the code HA20.
SHIPS TO CONTIGUOUS US STATES ONLY.
WEATHER WARNING: if you are experiencing high temperatures in your area, ensure your pollen patties are always stored in a cool place to avoid melting
Everything you need to know about HiveAlive Pollen Patties
Click below to watch the video
Not all patties are created equal! Choose a proven, tested formula that is best for your bees. HiveAlive Pollen Patties contain HiveAlive - the only supplement scientifically shown to improve bee health.
This is not a pollen substitute that has no pollen - this is the real deal. We use real natural pollen. Pollen is the best source of protein for bees.
Our patties are the only patties that contain both HiveAlive liquid and our unique additional seaweed nutrients.
Our patties contain a proprietary blend of additional seaweed nutrients and micronutrients essential for bee health. These extracts further enhance the amino acid, lipid and fatty acid, vitamin and mineral profile and also contain, prebiotics, enzymes and phenolic compounds.
Combining this high concentration of natural pollen and seaweed micronutrients makes the nutritional profile of these patties perfect for optimum colony nutrition.
NATURAL SOURCE OF
VITAMINS ∙ MINERALS ∙ AMINO ACIDS ∙ PREBIOTICS ∙ STEROLS ∙ ANTIOXIDANTS ∙ ENZYMES
Due to the addition of HiveAlive and specific seaweed extracts, our HiveAlive Pollen Patties contain all the proteins, amino acids, carbohydrates, lipids and fatty acids needed for strong healthy bees.
All the essential Amino Acids for bees (De Groot, 1953)
Valine, Leucine, Isoleucine, Threonine, Methionine, Lysine, Arginine, Phenylalanine, Histidine, Tryptophan
Also contains the non essential Amino Acids
Alanine, Cysteine, Tyrosine, Glycine, Proline, Serine, Aspartic acid, Glutamic Acid
Minerals
Boron, Calcium, Chloride, Copper, Iodine, Iron, Magnesium, Manganese, Phosphorus, Potassium, Seleniu, SodiumNaCl , Sodium Chloride, Sulphur (Sulfur), Zinc
Vitamins
Choline, Vitamin A (retinol), Vitamin B1 (thiamine), Vitamin B12, Vitamin B2 (riboflavin), Vitamin B3 (niacin), Vitamin B5 (Panthothenic acid), Vitamin B6 (Pyridoxine), Vitamin B8 (Biotin), Folic acid, Ascorbic acid, Vitamin E, Vitamin K1, Vitamin C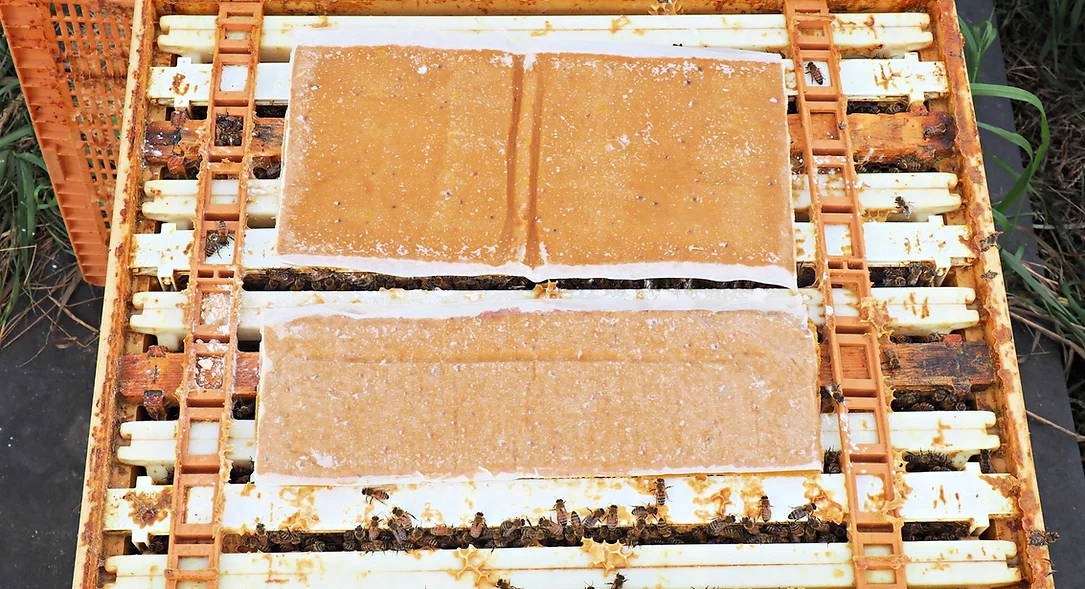 • Studies have shown that HiveAlive increases brood & honey production.
• HiveAlive improves intestinal wellbeing.
All natural. No animal protein.
Available in cases of 10 x 1lb patties or 40 x 1lb patties.
Limited availability, order now while stocks last.
Patties are traditionally fed in Spring to build up colonies and in Autumn to make sure colonies are strong going into winter but can be fed any time there is a pollen dearth. If you don't use up all your patties in the season you bought them, freezing them will keep them in perfect condition until you need them again.
Why choose the HiveAlive Pollen Patty:
Seaweed nutrients and HiveAlive are incorporated to further boost colony productivity and health.
HiveAlive pollen patties have a very fast consumption rate, which means they are ideal for use in regions where the small hive beetle is present.
When to feed HiveAlive Pollen Patties: Pollen patties can be fed whenever you want to increase brood, productivity and ensure strong colonies, in particular when there is a shortage of pollen. For optimal results, ensure there is a carbohydrate source when feeding pollen patties such as nectar or sugar syrup (for optimal results, add HiveAlive to sugar syrup).
Method of application: Gently smoke the bees down and place patty directly over frames as close to brood as possible. Ensure side with perforated paper is placed down so that bees have access to patty through the holes underneath. Repeat as needed.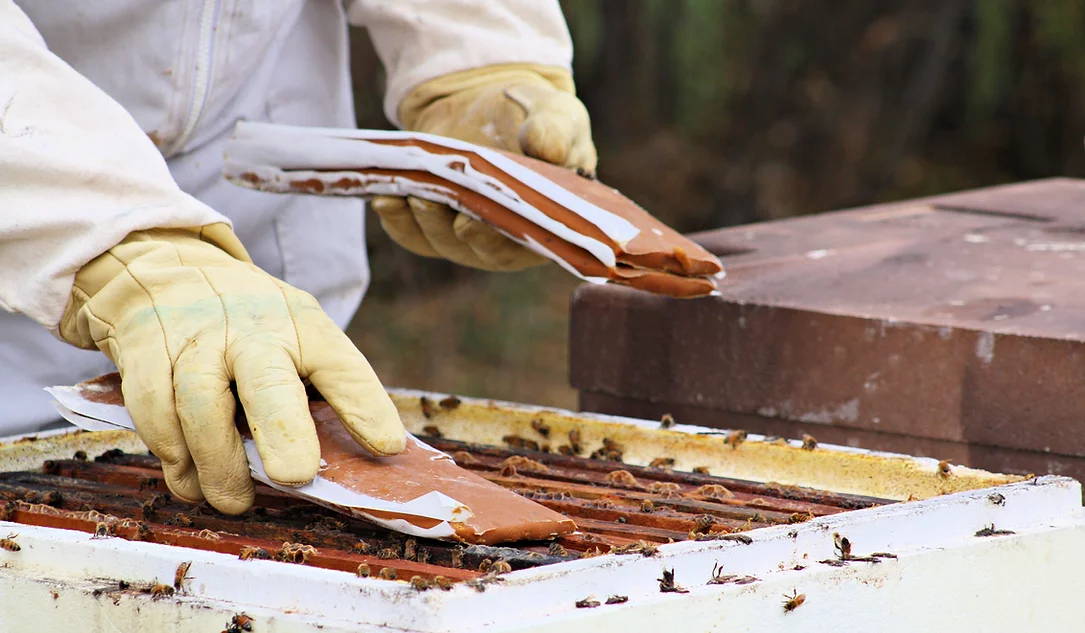 "Your choice of patty is excellent. I like the softer/gooey paper wrapped patties. I fed the pollen patties in 3rds along with winter patties (half patty) on 3 pound packages. I fed the patties along with 1:1 sugar ratio (hive alive in syrup) on top bottle feeders....It really did not matter if the "hole side" of the patty was up or down. The bees ate them, and ate from the sides also. A friend of mine ordered a pallet of them for his hives that were put on blueberries, using half a patty at a time. To make a long story short he and I were happy with them. Our bees look great. The one thing we noticed this year is very little swarming with our hives. He runs 2000 hives to my 200.....On inspections we have not even seen alot of swarm cells."
Mike, USA

"Earlier this spring I put Hive Alive pollen patties in several thriving hives and then put a leading competitor patty next to each of them…10 days later, the Hive Alive patties were nearly fully consumed while the other patties were hardly touched…that convinced me! I will always use Hive Alive pollen patties in my hives…nothing but the best for my bees!"
Phillip, MA, USA

"Earlier this spring I put Hive Alive pollen patties in several thriving hives and then put a leading competitor patty next to each of them…10 days later, the Hive Alive patties were nearly fully consumed while the other patties were hardly touched…that convinced me! I will always use Hive Alive pollen patties in my hives…nothing but the best for my bees!"
Peter, USA

"Tried 2 different protein patties and Hive Alive (pollen patties). Bees only took HA."
Janel, IN

"The bees could not wait for me to completely put patty on frames and they were starting to consume so I hope that is a good sign."
David, AL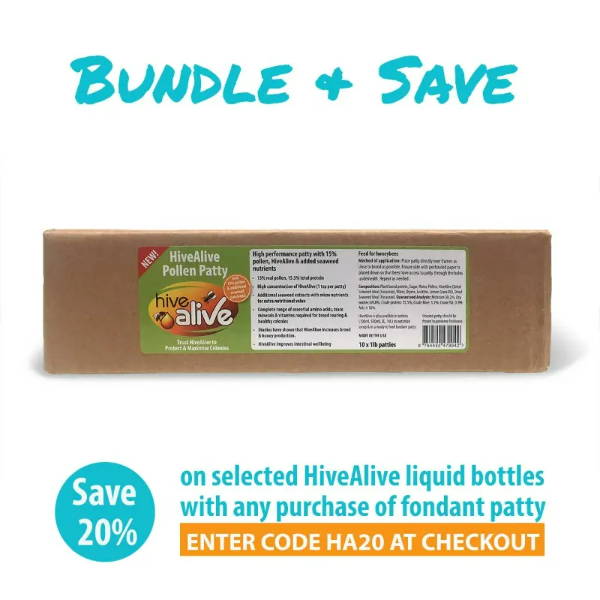 Frequently Asked Questions
What is the shelf life of your HiveAlive Pollen Patties?
HiveAlive Pollen Patties are best stored in a cool place and used in the same season in which they were purchased. If you need to store them then it is best to freeze them to be used again next season.
Is it advisable to freeze HiveAlive Pollen Patties or is is there another recommended method for storing for extended periods?
If you are not planning on using the HiveAlive pollen patties within 6 months of the manufacture date, then we recommend that you freeze the patties for use at a later stage.
How long can you freeze or refrigerate the pollen patties?
If you are hoping to keep the pollen patties for longer than 6 months from the date of manufacture we recommend that you freeze. However, we recommend that you freeze the pollen patties for no longer than 1 year.