DON'T FEED SYRUP THIS FALL WITHOUT IT!

Did you know that adding HiveAlive liquid to your sugar syrup in the fall is the best way to feed HiveAlive? For a limited time you can save 20% on HiveAlive liquid with your purchase of our Fondant or High Performance Pollen Patties with the discount code HA20
HiveAlive

World's #1 Liquid Feed Supplement for Honeybees
GIVE YOUR BEES THE BEST

All the benefits of HiveAlive. Massive 15% real pollen. Tried, Tested & Trusted.
DON'T FEED SYRUP THIS FALL WITHOUT IT!
Did you know that adding HiveAlive liquid to your sugar syrup in the fall is the best way to feed HiveAlive? For a limited time you can save 20% on HiveAlive liquid with your purchase of our Fondant or High Performance Pollen Patties with the discount code HA20
USE CODE HA20
HiveAlive
World's #1 Liquid Feed Supplement for Honeybees
#1 liquid feed for bees worldwide
Results from international field trials show that feeding syrup with HiveAlive added consistently leads to better nourished, healthier bees resulting in a natural increase in colony population and honey production.

Fast delivery from our Kentucky base
Beekeepers around the world trust HiveAlive

Unique, natural ingredients
Contains a unique blend of seaweed extracts

Field trials to support HiveAlive
"My bees are alive, they're healthy and we're definitely not having the losses that everyone else is suffering. HiveAlive is really paying off for me."
- Peter Dickey, Ontario, CA
"I swear by this product for building strong healthy hives."
"Our hives are full and we are seeing an astounding difference in our honey production this year already"
"We're happy with the product- it definitely works. Out of the beekeepers in our local area, we've had higher than average yields."
- Kyle G, Saskatchewan, CA
"When I first used it, it worked. I saw an eruption in hives the first spring I used it. Life expectancy is longer, they're stronger and they build up quickly. I'm using it 3 years."
"My bees were wintered indoors for over five months and came through the winter literally full of bees in two brood chambers and look so healthy. Now I am feeding it in the springtime and my bees are healthy and the colonies are growing dramatically...I now put HiveAlive in all my feed."
- Dennis, Saskatchewan, CA
"I add HiveAlive to all my sugar syrup and have seen an increase in bee numbers, health, and resistance to disease. HA is a permanent part of my feeding protocol."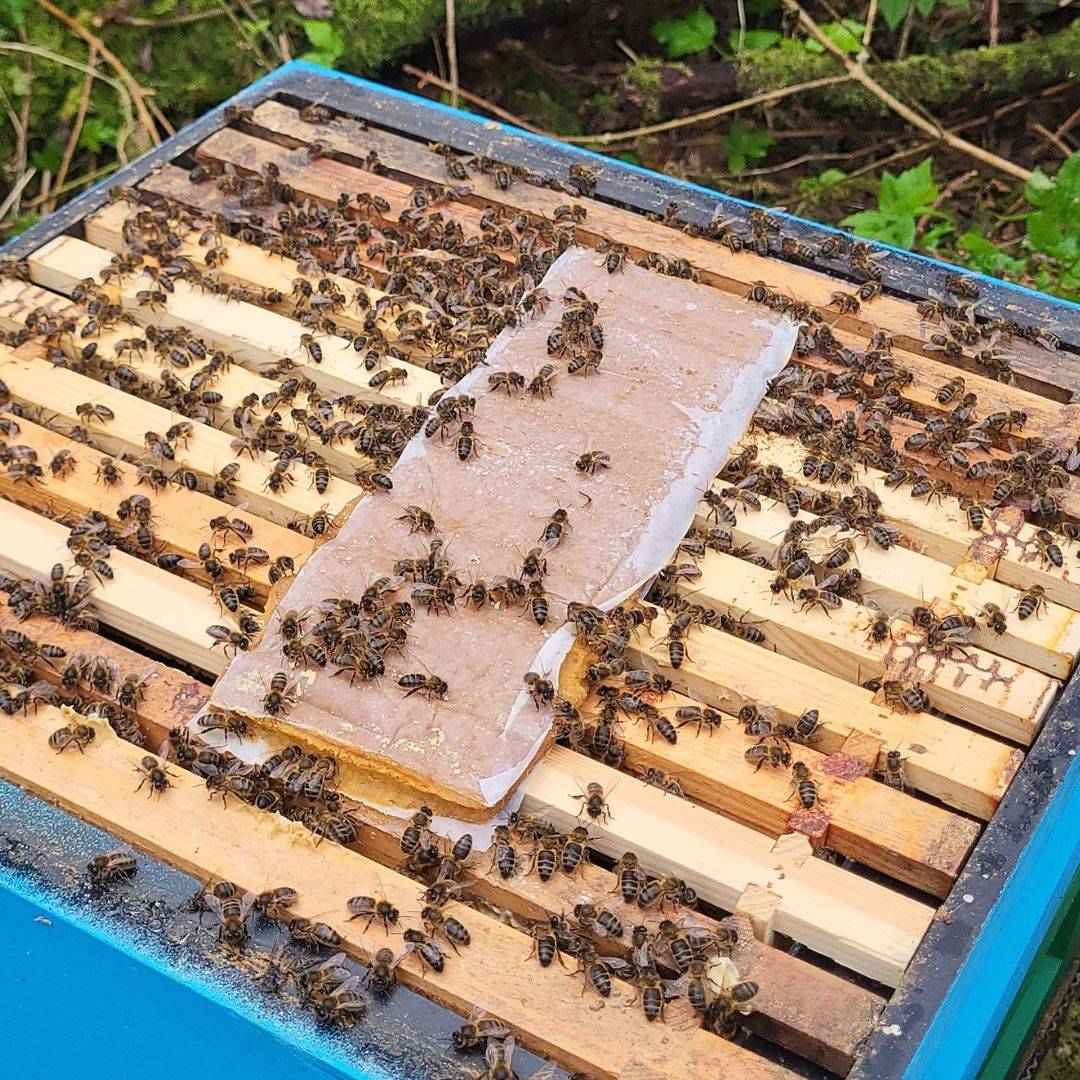 New Product Alerts!

Introducing
HiveAlive Pollen Patty
&
HiveAlive Fondant Patty

Excellent products for boosting colony productivity
Quality ingredients ● Contains HiveAlive  ● Easy to use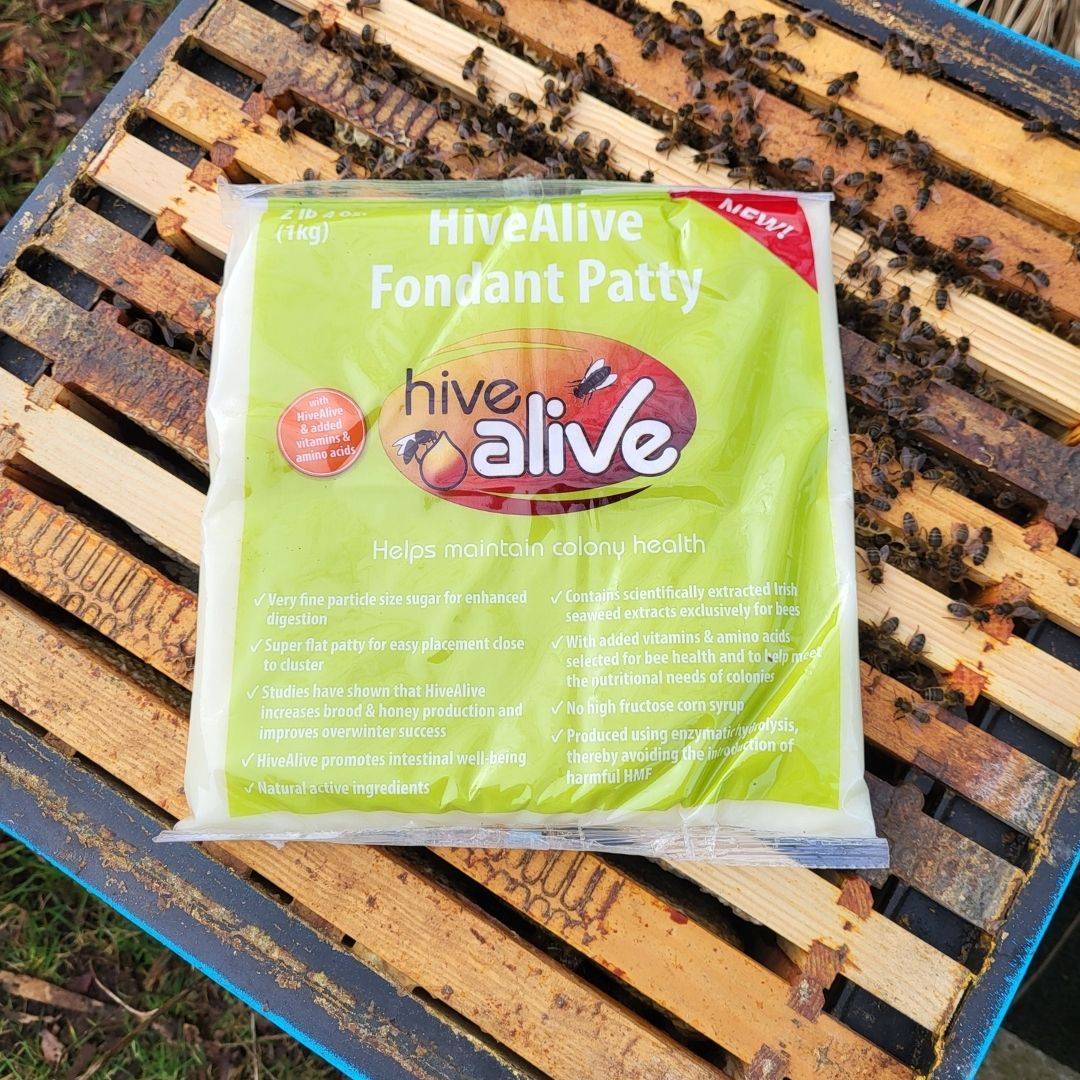 Why choose HiveAlive liquid?

SCIENTIFICALLY PROVEN TO GIVE:

MORE BEES
MORE HONEY
REDUCED OVERWINTER LOSSES
HEALTHY BEE GUT
UNIQUE NATURAL INGREDIENTS

Contains a unique blend of seaweed extracts - seaweeds consistently proven to improve animal health. Seaweed extracts processed using patented cold process system, this preserves the antifungal, antibacterial and antiviral properties of the seaweeds.
Prevents syrup from fermenting
Tiny bottle, huge impact- as little as 2tsp per hive required
Reduces bearding/absconding associated with thymol based miticides
Aids new queen acceptance
WHERE CAN I BUY HIVEALIVE?

Browse our library of educational videos on HiveAlive
HOW CAN HIVEALIVE SAVE YOU MONEY

SAMPLE REVIEW FROM US BEEKEEPER

A message from Dara
Dara here, creator of HiveAlive. I am delighted to say that we are now directly serving the US and Canadian market. This will mean a better price and better service. If you have any questions, please get in touch. I look forward to hearing from you.