"I swear by this product for building strong healthy hives."
Elizabeth, US
"Our hives are full and we are seeing an astounding difference in our honey production this year already"
LM, USA
"My bees are alive, they're healthy and we're definitely not having the losses that everyone else is suffering. HiveAlive is really paying off for me."
Peter Dickey, Ontario, CA
Scientifically proven efficacy
---
Scientifically proven to give:
MORE BEES


MORE HONEY

REDUCED OVERWINTER LOSSES
 

HEALTHY BEE GUT

 

Scroll down to read more about the science behind HiveAlive. 10 years on, we are still the only feed supplement backed with long-term published data to prove our claims
Unique, Natural Ingredients
---
3 key ingredients to protect your bees!

Contains a unique blend of seaweed extracts - seaweeds consistently proven to improve animal health. Seaweed extracts processed using patented cold process system - preserves the antifungal, antibacterial and antiviral properties of the seaweeds.
 
HiveAlive uses a unique emulsification process to ensure thyme blends easily into sugar syrup and does not cause separation or recrystallisation.
 
Contains the optimal concentration of lemongrass - does not cause robbing.
---
Prevents syrup from going bad.

 

Proven to work well in combination with probiotic feeding.

 

Aids new queen acceptance.

 

Reduces bearding/absconding associated with thymol based mitcides.
---
Used throughout the US & Canada, used worldwide for over a decade.
Protecting and strengover 6 million colonies worldwide and available in over 40 countries.
Exceeds all regulatory requirements.
Strictest manufacturing procedures and quality control.
Tiny bottle, huge impact!
---
As little as 2 tsp of hiveAlive required per hive for feeding.
Super easy to use, simply add to syrup.
Fall is the best time to use HiveAlive!
Simply add to sugar syrup according to the instructions below.
Shake well. Contents will settle.
 
Feed HiveAlive annually at the end of the honey harvest when the honey supers have been removed.
 
All syrup fed to be activated at a concentration of 2 tsp of HiveAlive to every gallon of syrup.*
 
Stir well.
*For best results, we recommend feeding a minimum of 1 gallon of activated syrup per hive.
Can be added to candy or inverted syrup. The temperature of syrup/candy must not be above 122°F.
---
"We're happy with the product- it definitely works. Out of the beekeepers in our local area, we've had higher than average yields."
Kyle G, Saskatchewan, Canada
"When I first used it, it worked. I saw an eruption in hives the first spring I used it. Life expectancy is longer, they're stronger and they build up quickly. I'm using it 3 years.""
Chris, MD, USA
"I feed hive alive In fall to boost hive size going in to cold weather. It seems to strengthen the hive to handle colder weather."
Milcamp65, USA
Click below to see more HiveAlive reviews...
"We have been using Hive Alive for three years now and have found it to be very effective in bee health. We operate 20,000 hives in around the center of the North Island, producing Clover, Bush honey and manuka honey. We feed Hive Alive in the Autumn around the months of April and May. The population increases rapidly and honey production increased. On average production per hive is approximately 25% more and the hives are more consistent in the production. We test our bees for Nosema ceranae during spring and have found that it has a very low or non-detectable level. To summarise we would recommend using Hive Alive to beekeepers because honey production per hive far exceeds the cost of the product."
Donald Tweeddale, Commercial Beekeeper (20,000 hives), New Zealand
"The colonies we fed with HiveAlive last year have had only 15 percent losses so far, compared to 25 percent for the rest. They appear to have built-up very well. There were 75 colonies that we started from packages in early April and we split them into 300 in mid-June. My close beekeeper friend who runs about 300 colonies bought the same packages of bees in April. He also split them, but he didn't experience the same buildup that I saw in my bees. He did not use HiveAlive, and he has since seen losses of about 35 percent, so far. He plans to buy some HiveAlive this week."
Nick S., 1000 colonies, New York, USA
We had a very wet Spring and had to feed longer than usual since the bees could not get out. So instead of just syrup and pollen patties we used HiveAlive this year in our syrup to help boost our hives. It has really made a Huge difference in our brood production. Our hives are full and we are seeing an astounding difference in our honey production this year already. I will definitely will be using when we feed over winter to help keep the colonies healthy.
LM, USA
"Giving HiveAlive to our bees in Autumn 2017 we didn't think that it could improve our situation that good. We live in Central Russia and usually suffer from big overwinter mortality of bees. This year the bees wintered outdoors and the result was unbelievable. Spring colony build-up impressed us as well! We are going to use HiveAlive further because everything that was said in an advertising brochure has been proved here, in Central Russia, at our family apiary."
Danis Lobastov, Chuvash Republic, Russia
"I have been very impressed with the product so far. I work closely with another local beekeeper and we generally follow similar treatment protocols. Early in the fall, both of us had losses of around 20 percent, but by late November, we noticed his hives were not as strong as mine, and he has since incurred greater losses. The one main difference in our operations: I use HiveAlive."
Steve S., 200 colonies, Michigan, USA
I swear by this product for building strong healthy hives. My mite counts have been extremely low as well on all my hives. This is the only product I have fed my bees for the past 2 years and will continue to do so going forward.
Elizabeth B, USA
"I am having great results with HiveAlive last winter and now this Spring. The results are dramatic, as my hives are growing like never before."
Mike Martel, Backyard Beekeeper, Chelmsford, Massachusetts, USA
"If there is a 'perfect' Spring you may not see a dramatic difference between hives fed it and those not fed it. However, if it is a cold wet Spring and the bees can't get out, you will probably see a big difference. Problem is that when you need to feed it at the optimum time in Autumn, you don't know what the Spring will be like so it is really an insurance policy. It is widely used by commercial operators in NZ including two of NZ's largest beekeeping operations - draw your own conclusions. Also of note is that HiveAlive has been developed specifically for honey bees"
Peter Lyttle, Beekeeper & CEO of New Zealand Beeswax Ltd
"My colony loss rate during last year's brutal winter was about 10-15 percent of our entire honeybee population. While that may seem high, it was far less severe than other beekeepers in the province, who had over-winter losses of at least 50 percent in their colonies. I use it in sugar syrup form, but we've actually taken it a step further by incorporating HiveAlive into pollen patties. We have done comparison tests with competitive pollen patty products, but there's really no comparison between the HiveAlive Pollen Patties and the others. The bees devour the HiveAlive patties and don't even touch the others. Prior to using HiveAlive, I would mix my syrup and put it in the feeders. When I'd go back later to refill the feeder, I'd find that the syrup had gone bad with green mold. Since I have been incorporating HiveAlive into my syrup, none of it has gone moldy. I was kind of shocked. Even unused syrup from the spring will last into the fall with HiveAlive in it. That was a totally unexpected development. I think beekeepers recognize the benefits of HiveAlive on the gut of the bee. It's getting a good reputation for helping the bees' digestive systems and getting them through the tough Canadian winters. My bees are alive, they're healthy, and we're definitely not having the losses that everyone else is suffering. HiveAlive is really paying off for me."
Peter Dickey, Commercial Beekeeper, Ontario, Canada
"We're happy with the product- it definitely works. Out of the beekeepers in our local area, we've had higher than average yields."
Kyle Glendenning, Commercial Beekeeper, Saskatchewan, Canada
"I contacted some of the bee keepers in my area (Southern Mountains of Colorado) to see how their colonies are building up. No one is seeing the colony build up like I am seeing with my colonies. But then again, no one else in the area is using HiveAlive."
D.M., Beekeeper, Colorado, USA
"I used 5ml of HiveAlive™ per 500 ml of syrup, and then repeated for 7 days, I saw real progress so now I use HiveAlive™ when I suspect symptoms of a weak hive. My colonies are more productive, better nourished and stronger!"
Honey Bee Vet, Northern Spain
"I am now running 1000 Langstroth hives and 300 five frame Nucs. I have been using HiveAlive for the last two seasons and I have noticed a huge build up difference in our colonies since adding HiveAlive to our syrup. Also loving the longevity added to the premixed syrup as it doesn't tend to ferment for ages."
David Stapleton, Commercial Beekeeper, Owner of Apitree & Head of Apiculture, Senior Tutor for Lincoln University in Christchurch, New Zealand
"When I first used it, it worked. I saw an eruption in hives the first spring I used it. Life expectancy is longer, they're stronger and they build up quickly. I'm using it 3 years."
Chris, Beekeeper, Maryland, USA
"I was sceptical of HiveAlive initially but I've been using it the last few years and now I feed any colony that does not show the same progress as others. Most recently, in one of my apiaries I had a few colonies that were so weak I thought I was going to have re-queen or kill off but I took a chance and fed and sprayed a few of them syrup with HiveAlive once a week for three weeks. The HiveAlive fed colonies exploded and ended up giving me two supers of honey each. Very impressed."
Willie O' Byrne, Beekeeping Lecturer, Ireland
I feed hive alive In fall to boost hive size going in to cold weather. It seems to strengthen the hive to handle colder weather. It's important to make sure that the varroa count is at an acceptable level.
Milcamp65, USA
"Greek beekeepers that have tried HiveAlive™ during fall 2014, have reported no severe infections from Nosema. Moreover, those who added HiveAlive in during spring 2015, reported good results as far as quality and quantity of egg laying and brood extend.
We have also used HiveAlive™ in our apiary, at Rafina, Athens, and we would like to confirm the same promising results."
Manolis Skareas, Beekeeper & Head of M.Sc. Agronomy (University of Reading)
"I had a very weak six hive apiary, four died out and the other two were weak and tested positive for Nosema. I used HiveAlive™ last autumn on the two remaining hives and they are now strong and produced an excellent crop of honey. Both recently tested clear of Nosema. It appears HiveAlive™ saved my bees! I also noticed it cleared up Chalkbrood in my other apiaries."
G. Coyne, Beekeeper & Chairman of the Connemara Beekeeping Association, Ireland
"I currently run 2500 honey production hives, 500 of which are used for kiwi fruit pollination. Additionally, we have another 100 hives and 600 baby nucleus colonies for queen/cell production. We mainly concentration on bush and pasture honey and we operate primarily in an area south of Auckland and north of Rotorua. I have used Hive Alive for 2 seasons now and first saw the product in the brochure sent out by NZ Beeswax. I have noticed we have had a lot healthier colonies coming into Spring and I don't believe we have been seeing any problems with Nosema so far. If this season is anything to go by, most beekeepers are complaining of a poor honey production but so far (still a long way to go yet) I think we will still do OK. I will continue to buy any product if I think it is a benefit to our bees health."
Steve, Commercial Beekeeper, New Zealand
"I used it in the autumn feed for one apiary of nine hives. I was getting poor results from this apiary over recent years with losing colonies in winter and not building up very well and consequently the yield was well below average. I suspected they were suffering from Nosema and so activated their winter feed with HiveAlive™. I inspected this apiary recently and was pleasantly surprised to they are now as good as the general run of colonies. I will now be adding the HiveAlive™ product to my autumn feed. Spring 2012...
... to update you on the weak apiary that I treated with HiveAlive™ last year. It yielded 36% more honey than my overall average yield this year. Impressive, especially given the fact that two of the hives in that apiary swarmed!!"Autumn 2012
Micheál Mac Giolla Coda, Professional Beekeeper, NatDipSc (Apic), CFL, FIBKA Honey Judge, BBKA Senior Honey Judge and Chairman of the Galtee Bee Breeding Group, Ireland
"I had a number of apideas full of Chalkbrood. Shortly after feeding syrup with HiveAlive it disappeared. I plan to add HiveAlive to all my hives this year."
John Summerville, Professional Beekeeper and winner of prizes at the Irish and UK National shows.
"I have had three failing hives this summer not with varroa but I suspect Nosema.I followed your directions for spraying them which I repeated three times the last being approx 4-5 weeks ago.What a difference; whole frames full of capped brood and much more active. HiveAlive™ has certainly sorted them out. In one hive they appear to have superseded their queen. I will be ordering another bottle to enable me to feed all my hives going in to the winter as per the directions".
Chris Tomlins, Beekeeper & President of the Guernsey Beekeepers' Association, UK
"In 2009 I detected the first symptoms of CCD, I used Fumagilin but the colonies' health deteriorated and honey production was at its lowest. I sent samples to the Regional Centre Beekeeping of Castilla La Mancha and Nosema Ceranae was detected. I was told by the specialist beekeepers that there are products that fight Nosema and after some research I came across HiveAlive™. I used HiveAlive™ in the fall and in the spring. After use more hives are surviving, the colonies are stronger and there are more workers per colony. HiveAliveTM is definitely beneficial."
José María Tirado, Beekeeper, Madrigal de la Vera, Cáceres, Spain
"Every one of my 300 hives survived the winter. I am extremely impressed with HiveAlive™ and will continue to use it for all my hives."
P. Little, Professional Beekeeper, UK
"This is brilliant stuff!
When it came to make up and put on supers towards the end of May I found that I was caught for good quality fresh foundation. So I had to do with old dried up foundation and was worried about the bees drawing it out.
The brainwave: leftover HiveAlive and syrup mix would be useful. I 'borrowed' the basting brush from the kitchen, went to the shed and basted on HiveAlive to the year old (maybe two year old) super frames of foundation. I quickly transported them to the apiaries, put the supers over the brood boxes and left. I returned after ten days, and hey presto, the supers in every hive were almost fully drawn with comb. Was it a case of the bees being spurred into creation of storage for the new brood or paying back for feeding this wonderful treatment?"
Eoghan O' Riordan, Beekeeper & President of the Tribes Association, Ireland
"In our Maltese study beekeepers found HiveAlive™ to be positive for overall hive health, for the preservation of syrup and Varroa drop when drenched. We have also noticed that HiveAlive™ has improved queen acceptance in some nucs and that syrup and patties enriched with HiveAlive™ were consumed quicker than the controls."
Melvin Magri, Beekeeper & Apicultural Expert, Malta
"I started using HiveAlive™ after I lost some of my densely populated hives. My colonies were weakening so following a workshop organised by the Association of Beekeepers of Gerona, Dr. Garrido encouraged me to try HiveAliveTM. I used HiveAlive™ in October and February and I must say that there has been a dramatic improvement in population abundance, behaviour (very little hives have swarmed!) and spring yields. So far the outcome after using HiveAlive™ is positive."
Commercial Beekeeper, Celtrá, Girona, Spain
"I just started using HiveAlive this summer for my hives that have been hit hard by varroa and deformed wing virus. They had chalkbrood and the brood pattern was not as consistent as it had been. I noticed after two weeks of HiveAlive that the brood is more consistent and the bees seem to be building up better. I tell all my other beekeeper friends that it seems to be working and it could be the answer to reducing or eliminating chemical controls for varroa."
D. Kosisky, Beekeeper, Maryland, USA
"The traditional treatment (for Nosema) was chemical – Fumidil B – now being phased out under EU regulations. One "natural" treatment which shows encouraging results is HiveAlive™ produced by Advance Science which boosts the strength of colonies to enable them to fight off the effects of Nosema."
Mike Oliver, beekeeping teacher, UK
"I have used HiveAlive for the past five years now with excellent results. This year, I have overwintered 14 hives and nucs successfully and know that it was down to the autumn feed with HiveAlive that got them through."
Pat Mawby, Beekeeper, UK
"Honeybees are living in a world that is becoming increasingly alien to them. Environmental pollution in all its forms, honeybee pests and hard chemicals used to control them, and monoculture of crops, can each adversely affect the very fine balance of the micro fauna and flora within the bee's gut which enables it to thrive. It gives me great pleasure therefore to see another natural product on the market which promises to have nutritional as well as curative properties for the bees under our care."
John Phipps. Editor - The Beekeepers Quarterly, UK

"I used HiveAlive™ on all my hives last Autumn. The bees that were previously aggressive calmed down and became a pleasure to work with. The syrup did not show any sign of mould – which is a first for me. The colonies were strong in the spring and for the first time in my seven years of bee keeping we have a wonderful honey crop. HiveAlive is a good and effective product – definitely worth the investment."
Steve Irish, Apiary Manager of the Southampton & District Beekeepers' Association, UK
"We have recommended your "Hivealive" because some beekeepers in our union have had good experiences with your product. In my case, I found in the 2012 beekeeping season all symptoms of Nosemosis in one of my hives. After having read various documents praising the good results of thymol and polyphenols on Nosema spores I tried your product.
- At the end of the 2012 season, before wintering, I stimulated the hive every two days for two weeks with 200 ml light syrup containing your product in the concentrations indicated on the packaging.
- At the end of winter, I carried out the same treatment for two weeks. During the beekeeping year 2013 there remained very few signs of illness and in no way resembled the unhealthy state it was in last year.
- At the end of 2013 season and early season 2014 I again carried out the same treatment.
The queen, who is now 3 years old, is thriving and the hive is in excellent shape with no sign of this disease, and this after 4 treatments with "HiveAlive" spread over 3 seasons. As you can see I can only be satisfied with your product. Other beekeepers have achieved good results as well."
Maurice Feltin, Beekeeper of the Enchenberg Apiary School, France
---
Effect of HiveAlive on colony population (18 month trial)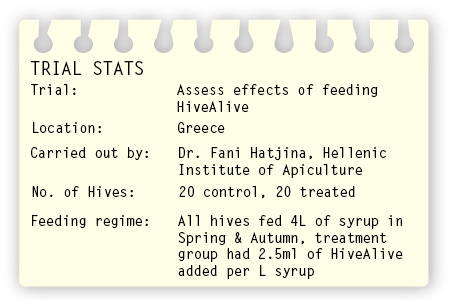 Published in the Journal of Apicultural Research - Trials were performed by the Hellenic Institute of Apiculture, Greece. Read the published paper.
Increased Population - A near doubling (89%) in colony population in comparison to ordinary syrup when used biannually. Similar results seen in French trial.
Lower Nosema Levels - HiveAlive treatment group maintained significantly lower levels of Nosema ceranae spores.
Lower Winter Mortality - None of the 20 colonies fed syrup with HiveAlive™ failed whilst 3 hives failed in the syrup only group.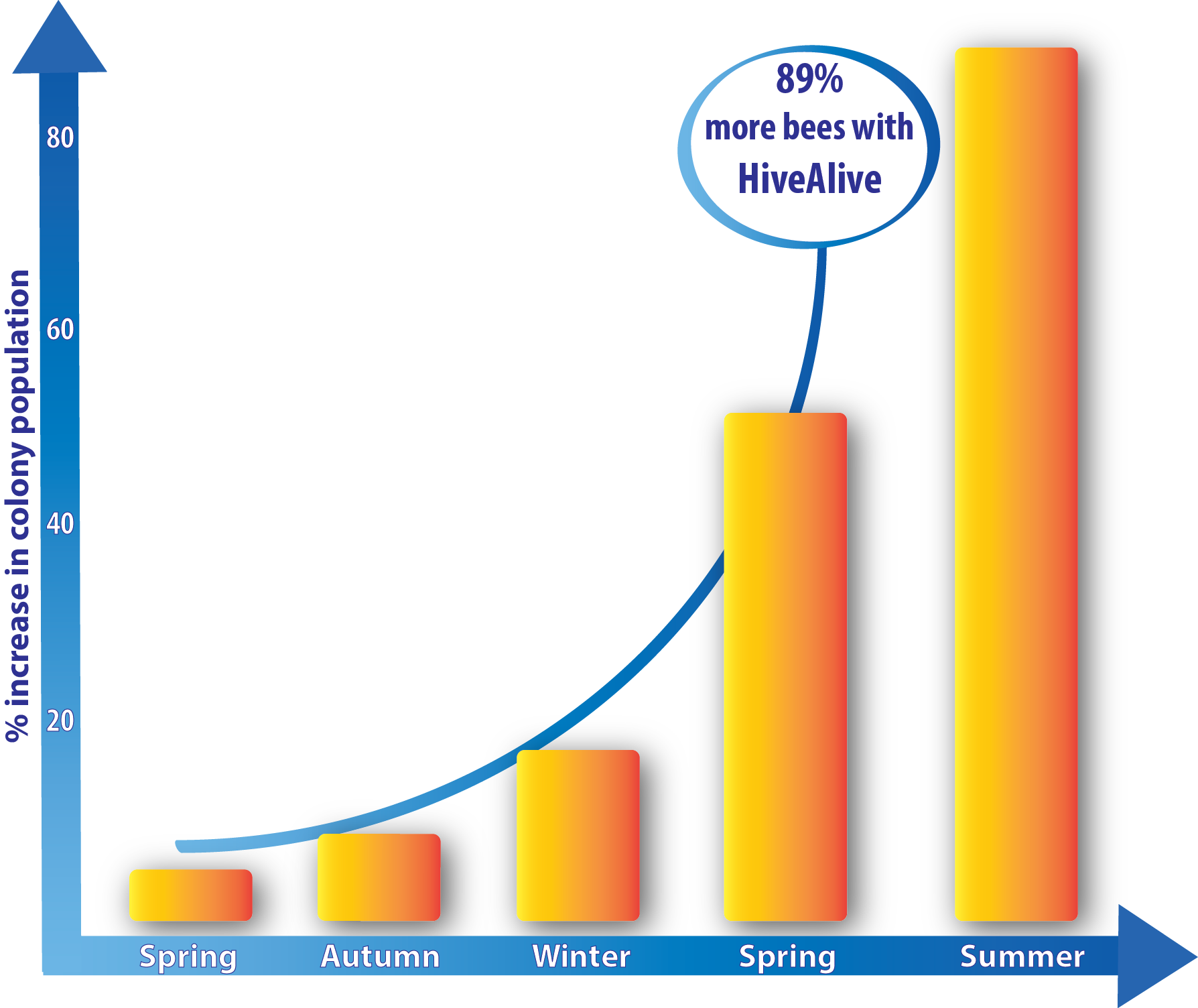 Feeding of colonies with HiveAlive results in a large increase in colony population compared to control with continued use. Colonies are significantly stronger after one year of feeding but best results are observed with continued annual usage. Feeding HiveAlive for a year and a half resulted in an 89% increase in colony population compared to control.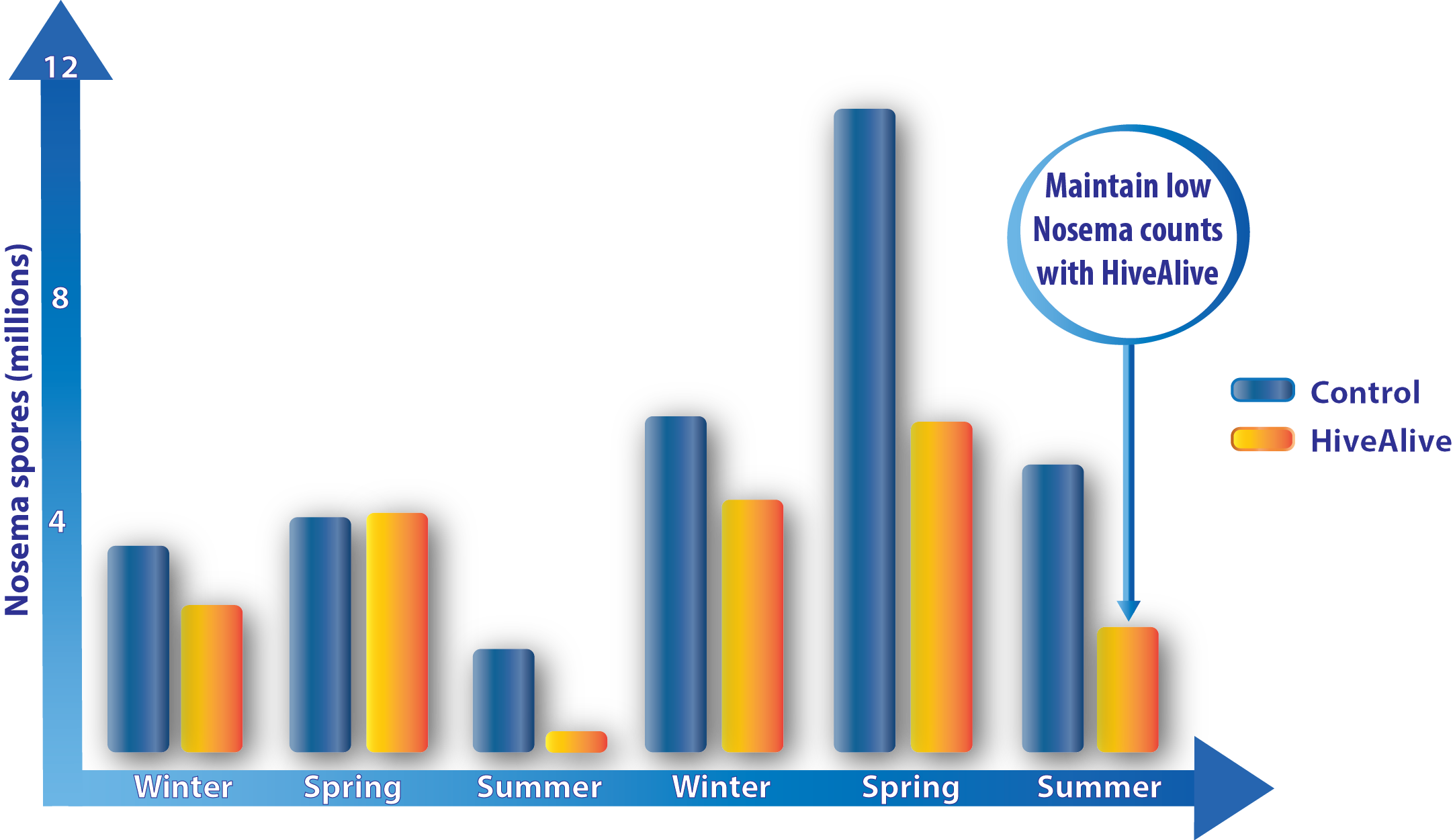 It was also found that feeding HiveAlive maintains low levels of Nosema spores.
Levels of Nosema naturally reduce in summer months and increase over winter. Feeding HiveAlive kept the Nosema levels lower than control over winter and in spring.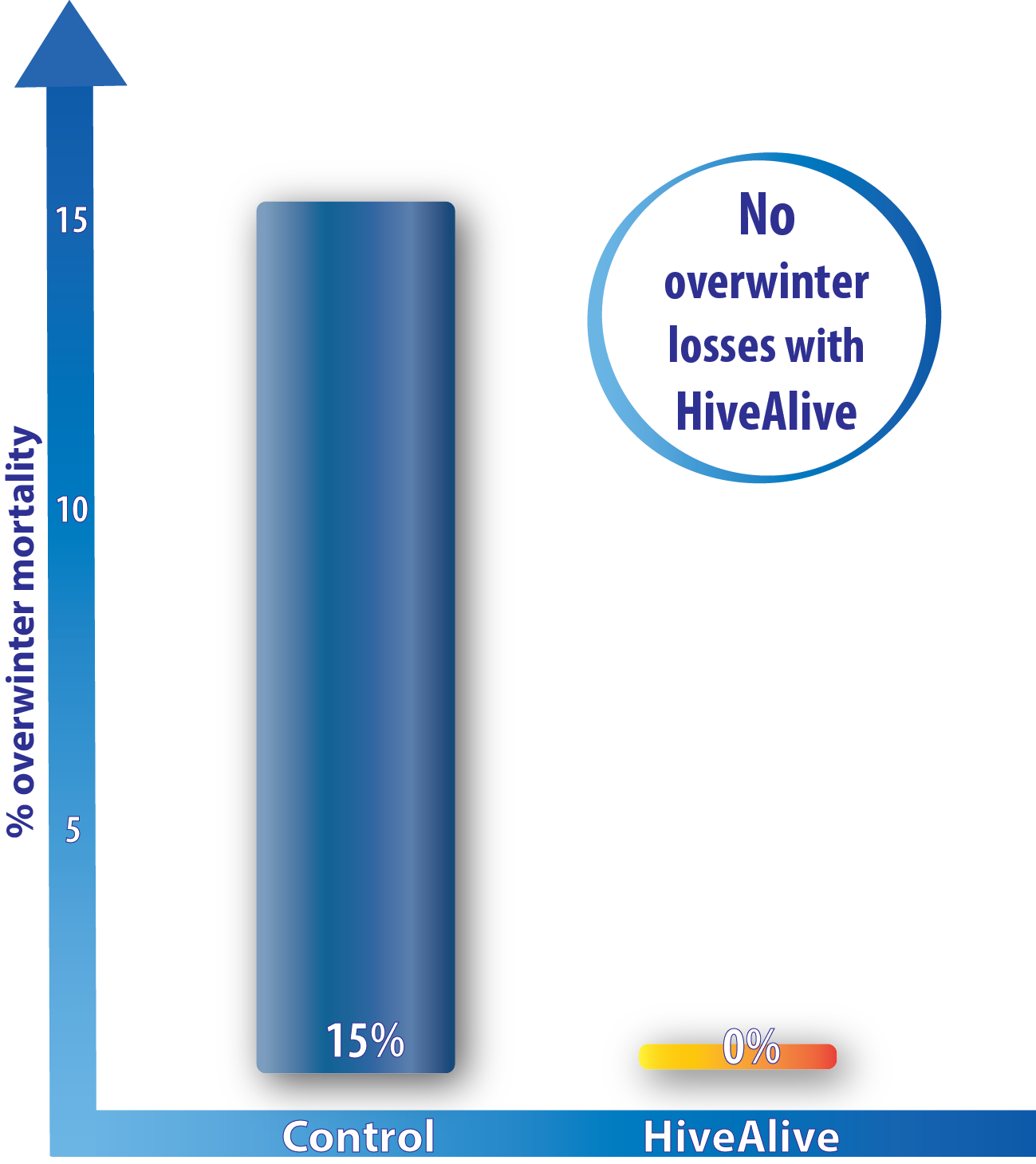 The HiveAlive fed group had reduced overwinter mortality compared to the control group. The control group experienced 15% losses whilst the HiveAlive group had no losses.
Increase in honey production with continued use of HiveAlive (12 month trial)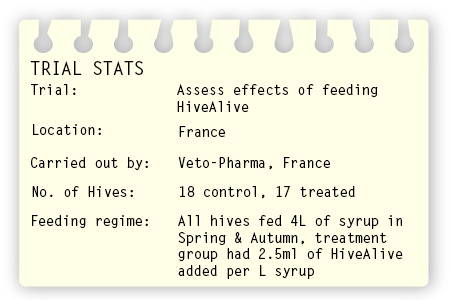 Feeding HiveAlive resulted in
Increased Honey/Pollen Production
Increased Brood Production
Increased Colony Population (similar results seen in trials carried out in Greece)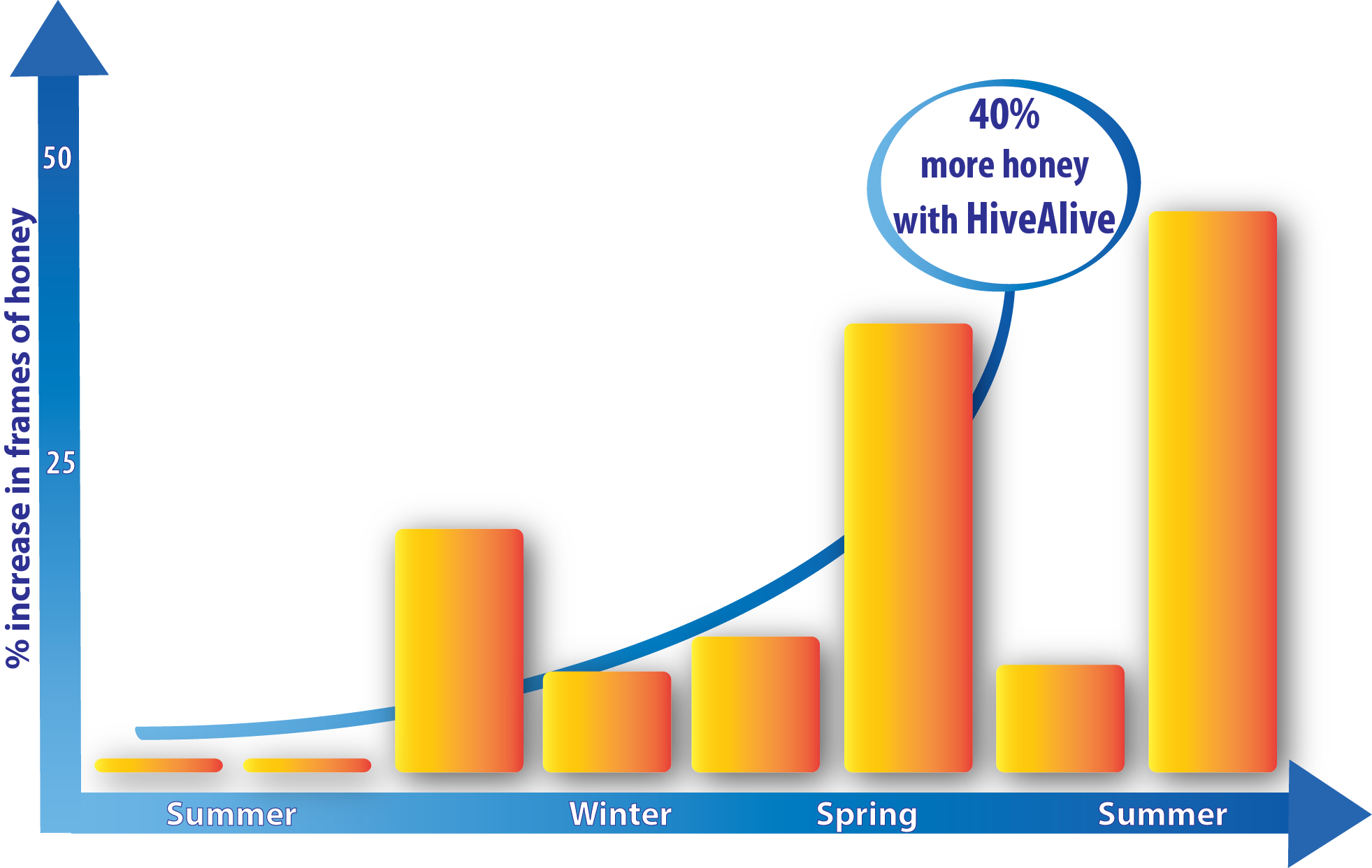 The amount of honey and pollen stored by hives was also monitored by counting the number of frames of stores per hive. At the end of the trial, the HiveAlive group had 40% more stores than the control group.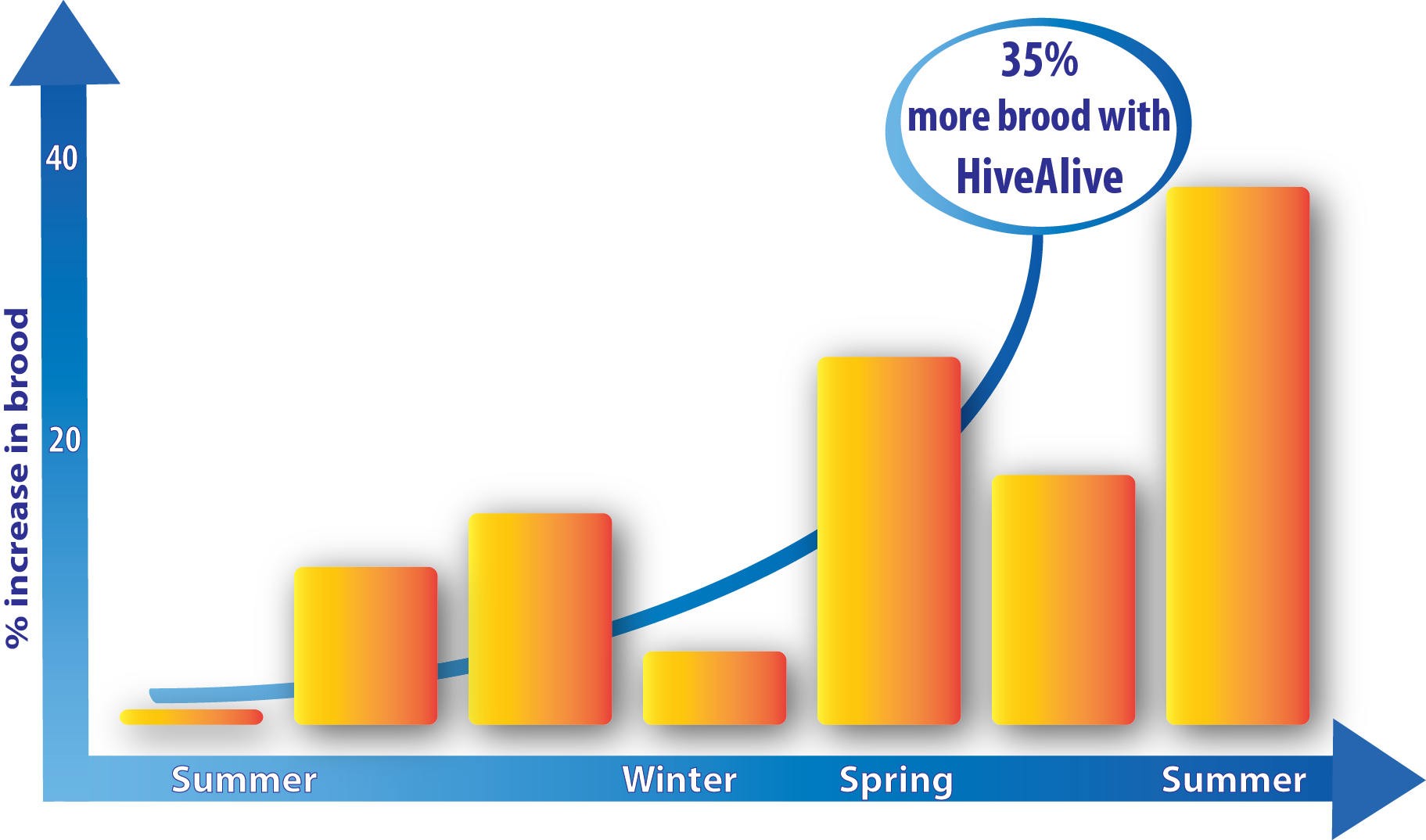 The amount of brood on frames was measured in terms of area coverage (m2) of frames per hive. At the end of the trial period, the HiveAlive group had 35% more brood than the control group.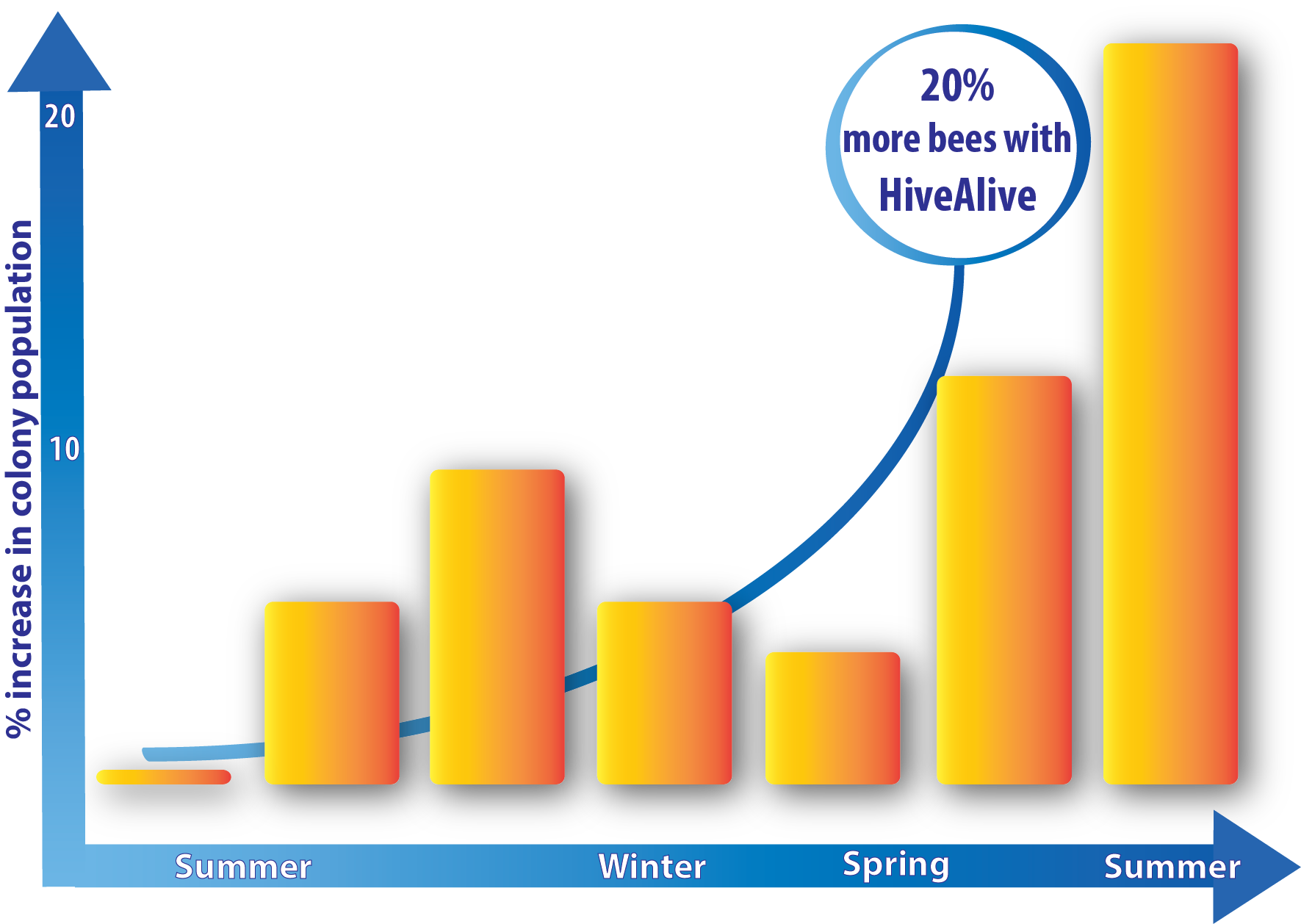 The number of spaces between frames that was full of bees was noted as a method of assessing colony population. The HiveAlive group had more bees than the control group at the end of the trial period. Feeding HiveAlive resulted in a 20% increase in colony population compared to control.  
The ability of colonies to draw out new wax comb was monitored for the first summer period after feeding began. Just 3 weeks after feeding, the HiveAlive group were drawing out 7% more comb than the control group.
Effect of HiveAlive on Nosema spore levels
A number of feeding methods were compared in order to find out which had the greatest effect on Nosema spore levels.
Feeding HiveAlive overwinter resulted in a 92% decrease in the number of spores compared to control.
Results also suggest that adding HiveAlive to syrup is the most effective.
HiveAlive shows inhibitory activity against American Foulbrood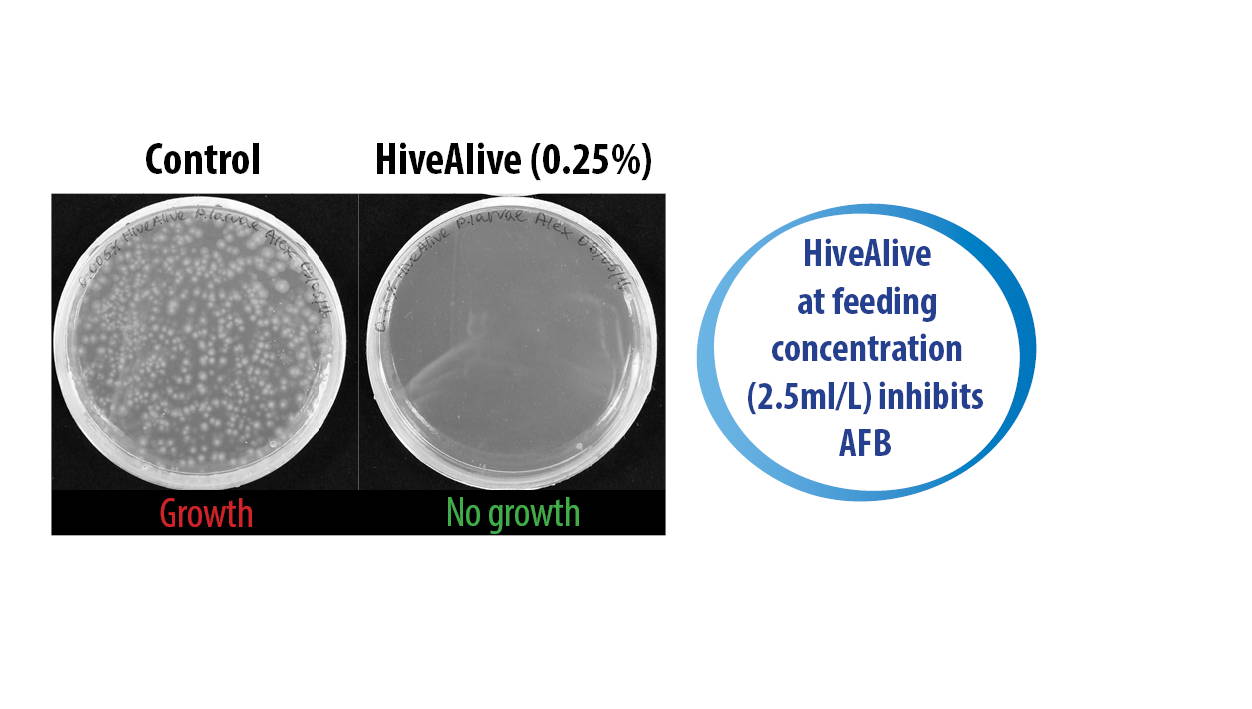 American Foulbrood (AFB) is caused by a bacterium called Paenibacillus larvae. Oxytetracycline is used to treat infections but strains of oxytetracycline resistant P. larvae have been identified in some countries.
Different concentrations of HiveAlive were evaluated for their inhibitory potential using agar-dilution assays and 96-well microdilution assays. A concentration of 0.25% HiveAlive in agar was sufficient at inhibiting growth on solid media. In liquid media, growth appeared to be inhibited at 0.625%. Further tests are required to define the minimum inhibitory concentration and to assess if this inhibitory action can be replicated in larvae.
Effect of HiveAlive on bees in cage trials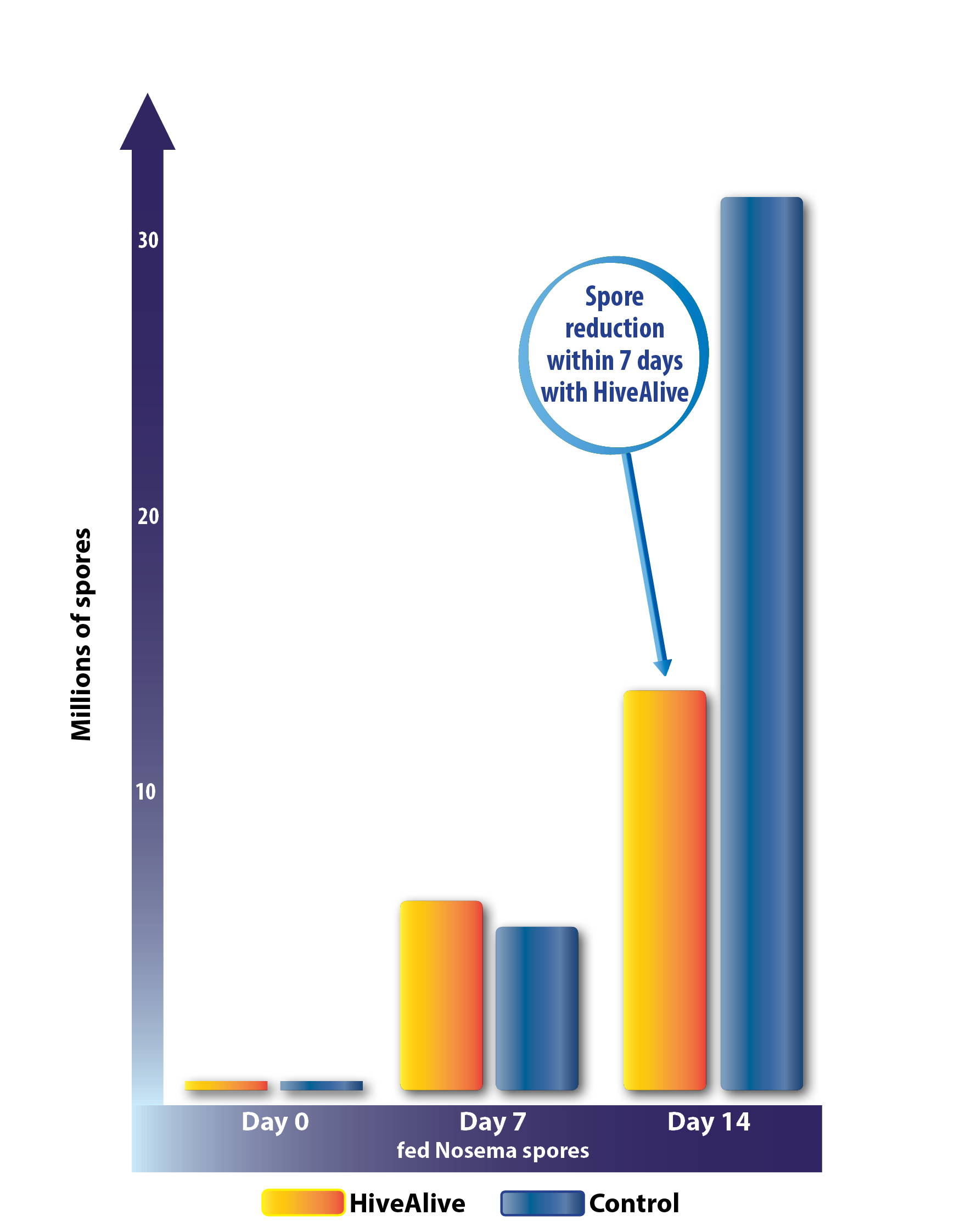 Results generated from short term cage trials demonstrate the following:
HiveAlive reduces Nosema ceranae Spores by 56% in 7 days
Addition of seaweed extracts to thymol improves spore reduction by 91%
Bees prefer syrup with HiveAlive added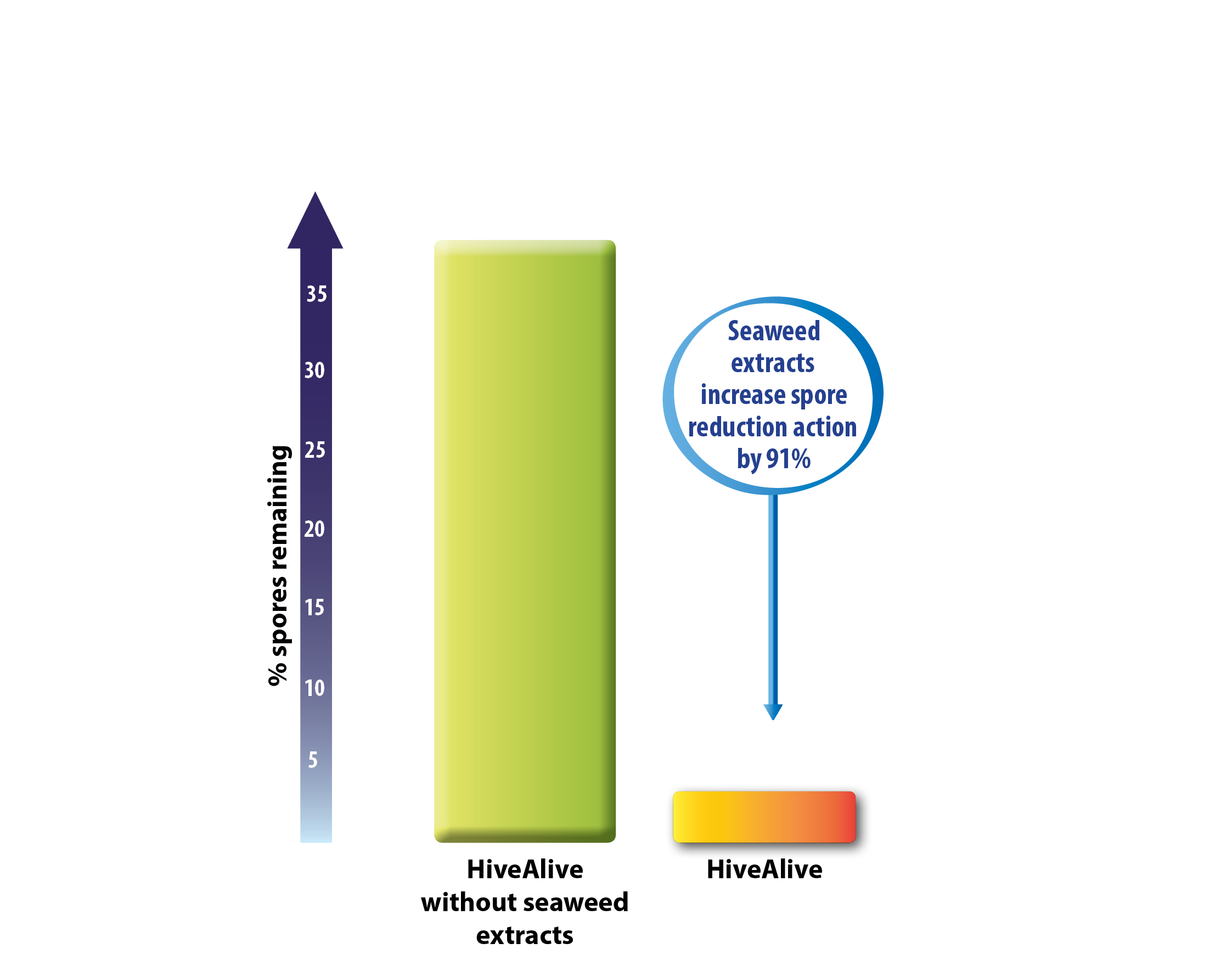 The effects of adding seaweed extracts were assessed by testing a blend with seaweed extract and without seaweed extracts.
It was found that addition of the seaweed extracts reduced Nosema spores much more effectively than the blend without the seaweed extracts.
---
The beekeeping tool I CANNOT live without
Join our mailing list for exclusive discounts, sales and beekeeping news.