Due to significant demand, the 5lb patty and 15 x 2.2lb patty will not be available to ship until the week of December 4th or early the following week.
Please note: If you order items in conjunction with pre-order products, the entire order will ship together when pre-ordered products are back in stock.
In addition to adding HiveAlive to your sugar syrup you can boost them further and ensure they don't starve with our HiveAlive Fondant.
Super easy and quick to use, add them to your colony any time from fall to spring to ensure your colonies always have access to the perfect food and don't starve.
Each pack of fondant contains HiveAlive and additional vitamins and amino acids for optimal health overwintering your colonies.
Choose from the 3 options available inthe dropdown menu: 
Pack of 6 (14 lbs)
Pack of 15 (35 lbs)
Pack of 6 x 5lb (30lb)
New subsidized shipping rates:
6 pack - $10 per case nationwide
15 pack - $14 per case nationwide
Special offer: Get 20% off HiveAlive liquid (100ml, 500ml or 2l) when you purchase HiveAlive Fondant - simply add both products to the cart and use the code HA20.
For commercial pricing, please contact us for details at info@hivealivebees.com.
SHIPS TO CONTIGUOUS US STATES ONLY. For availability in Canada please contact our Canadian resellers
Correct dose of HiveAlive liquid incorporated.
Additional vitamins & amino acids added optimised for bee health.
HiveAlive added makes the fondant more attractive to the bees, which means faster consumption than most fondant patties.
Safe, produced using enzymatic hydrolysis without the use of acids or heat processing giving no harmful HMF.
Very fine particle size sugar for enhanced digestion.
Natural active ingredients.
Only European, non-GMO ingredients.
Very thin and flat packaging to allow ease of placement directly on top of colonies.
Unique packaging design prevents fondant from drying out.
What is Fondant?
Fondant is put on top of the colony, either under or over the inner cover, so no feeders are needed.
It can be used as an autumn feed but is mainly used to top up over winter, when it is too cold to feed syrup, or in late winter when bees are running out of stores.
Because it is placed directly over the cluster, the bees do not have to leave the cluster to access food, minimising the chance of starvation.
Fondant is easy to handle and store and doesn't cause robbing like syrup can.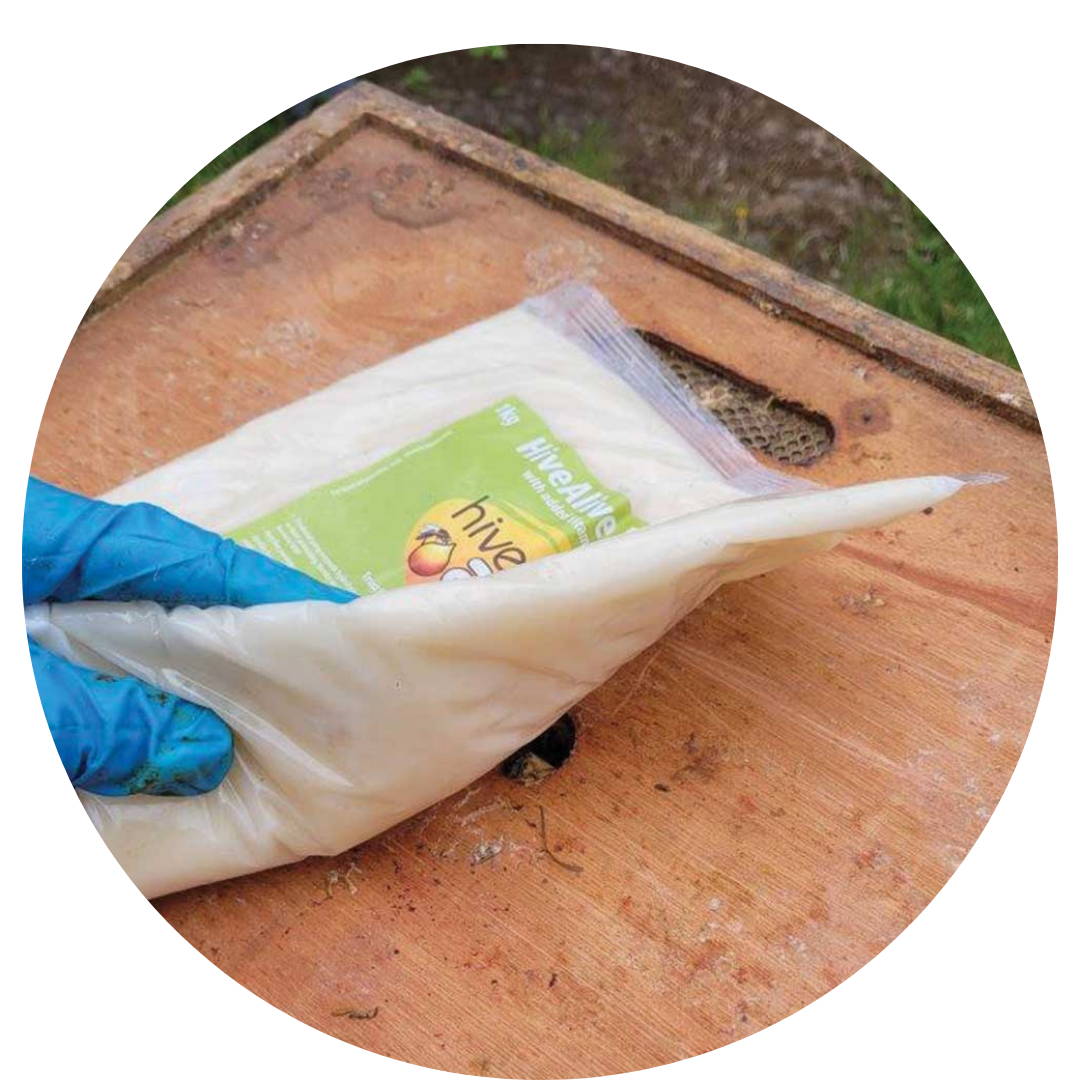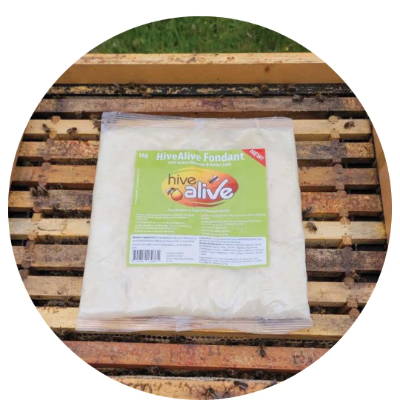 Why Choose HiveAlive Fondant?
The HiveAlive Fondant Patty is a premium product sold in 1kg/2.2lbs pouches with the correct dosage of HiveAlive liquid added as well as an optimised blend of vitamins & amino acids chosen for bee health. It is available in sealed 1kg/2.2lbs pouches. Long shelf life, 2 years from date of manufacture.
When to feed HiveAlive Fondant
Fondant can be fed anytime of the year when supers are not on but is mainly used over winter and in spring when too cold to feed syrup.
Key feeding times are over winter to prevent starvation when there isn't enough food or the bees are clustered too far away from their stores and in spring when bees are running out of stores or need a boost to build them up for the year ahead.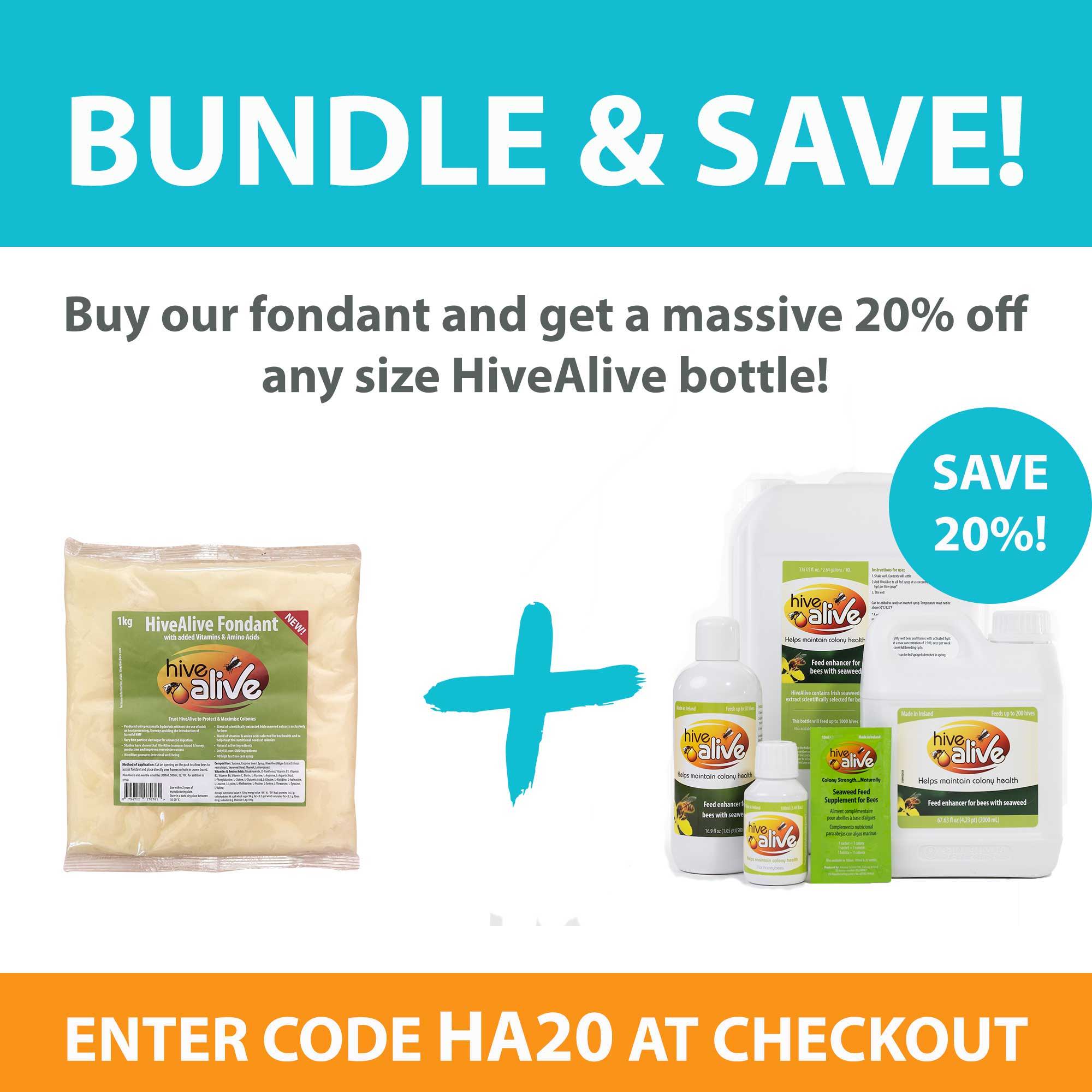 Quantity to feed
Feed as needed by the bees. Check hives regularly to see if fondant is being used up and replace with new fondant package as necessary
Why feed HiveAlive Fondant?
Fondant is essential to prevent the starvation of bees over winter and early spring. By placing the fondant directly over the cluster they always have direct access to food.
Reasons they would need it are...
Stores too far away from the bee cluster: Their stores could be only a frame or two away but if too cold they can't leave the cluster to access it and hence will starve.
Ran out of food: This can happen over winter but usually happens in spring when the bees are building up but there is no flow yet. They can very quickly run out of their stores leading to starvation and colony loss.
Cold snap in spring: The bees have built up and there has been a nectar flow but the weather gets cold again and the bees cannot fly and quickly use up any food they have collected and will very quickly starve if not fed.
HiveAlive and vitamins and amino acids in the fondant ensure better overwinter survival, improved gut health and optimal bee health.
Fondant can be used in queen rearing in queen cages, apideas, nucs etc.
Weight
Single Patty = 1kg/2.2lbs
Box of 15 = 15kg/35lbs

"This is a little bit premature to be posting a review, but there is enough of a difference in the apiary for me to report positive results. Of 20 colonies of bees going into the winter of 2021/2022, 10 of them received the Hive Alive Fondant Patties. The remaining 10 received dry sugar as emergency rations. Today, the weather was warm enough to have cleansing flights. It appears that the Hive Alive provisioned colonies have fewer dead bees on their landing boards than those with sugar alone. In addition to the Hive Alive Fondant, and Sugar respectively, all colonies had stored honey and pollen going into winter. I will know more in spring, but at this point, I am comfortable endorsing Hive Alive Fondant for wintering bees as their emergency backup resource. All colonies are consuming the fondant. It was placed on top of the insulated inner covers of each colony. I definitely recommend it."
Fred Dunn, PA, USA

"The bees are very aggressive in eating the Hive Alive Fondant Patties. They favor them over any other fondant I've used in the past."
Sam, VA, USA

"First winter using HiveAlive fondant (WOW! ) it has proven itself to be true to what the science says."
Craig, USA

"I purchased the fondant based on a podcast I was listening to. I also us regular fondant, so I just ordered 1 box. After 4 weeks, whenever the bees break cluster, they jump right into it. And much faster than the regular fondant. So now I'm waiting for my second box."
Neal, PA, USA

"The bees love it, I could tell a huge difference in colony health. I could tell they just needed a little something and this was it. Going to order more for sure."
Laura, FL, USA

"Amazing product! These ladies love it and all of my hives have made it into February. I have a great video of them if you want to let me know how to share it. I would be happy to."
Heath, NH, USA
Can I use the fondant in the spring instead of 1 to 1 syrup?
Yes you can feed the fondant instead of 1:1 syrup however, if it is warm enough to feed syrup, then syrup with HiveAlive added is the preferred method.
As the HiveAlive fondant has a shelf life of 2 years from date of manufacture how do you store them?
You can store at room temperature as long as the temperature of the room does not go above 85°F for any sustained period.
Can you freeze the HiveAlive fondant patties?
Because the fondant has a 2 year shelf life, we do not recommend freezing them as they will still be in date for the following season. We do recommend storing in a cool, dry place.
How do I apply the HiveAlive Fondant to my hives?
You can place the HiveAlive fondant on top of the colony, either under or over the inner cover.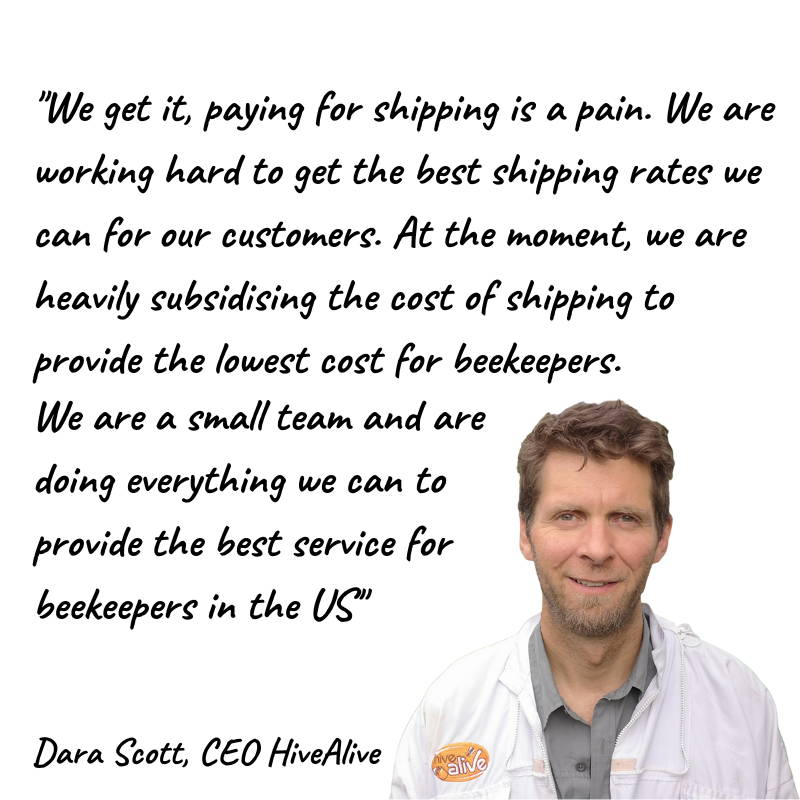 You may also be interested in...